2020 is an inflection point. Countless articles have been written about the unprecedented nature of the year. Top headlines make references to the global pandemic and the ongoing financial crisis. The sheer number of these stories and breaking developments has highlighted just how unprecedented the year is. One of the largest developments has been the number of protest movements seen across the world. Videos and images on social media have highlighted the battles and struggles many are currently fighting in places like Hong Kong, Nigeria, and Belarus.
As COVID-19 continues to run rampant, many countries have implemented tighter security measures. Many of these policies are rooted in a need to fight the pandemic. However, for other nations, COVID-19 has proven to be the perfect casus belli for the implementation of additional autocratic measures. In El Salvador, the pandemic has enabled President Nayib Bukele to detain opponents into forced "quarantine."1."El Salvador treads deeper into constitutional crisis as COVID-19 surges": BNAmericas President Viktor Orban of Hungary has used COVID-19 as a justification for further power consolidation. The Hungarian Parliament has enabled Orban "unlimited power for an indefinite time."2.Philippe Dam, "Hungary's Authoritarian Takeover Puts European Union at Risk": Human Rights Watch
Across the world, high unemployment, increasing autocracy, and the erosion of democratic norms have led to the explosion of protest movements. However, it is important to note that while many of these cases have emerged due to COVID-19's effects, many of them are rooted in longer battles, with decades of historical context. In this series, we will assess the global protest movement in themes. We will chart the developments of anti-government demonstrations, examine the autocratic trends and COVID-19 related securitization, and look at how global pandemic has helped create the current international protest movement.
Egyptian Repression and the Fight for Civil Liberty
The death earlier this year of Sarah Hegazy, a socialist and LGBT+ activist from Egypt, was a painful reminder of the tenacity of the brutal regime led by President Abdel Fattah el-Sisi. Hegazy became prominent in the eyes of Egyptian authorities after she flew a LGBT/Pride+ flag at a Mashrou Leila concert in Cairo back in 2017.3."'Egypt failed her': LGBT activist kills herself in Canada after suffering post-prison trauma": Middle East Eye The band's lead singer, Hamed Sinno, is openly gay, and has himself been a victim of abuses at the hands of conservative and autocratic authorities.4."Presenting al empire: Hamed Sinno": Kerning Cultures Shortly after the concert, over 33 individuals, including Hegazy, were arrested by Egyptian security forces, and each person had been identified as waving the LGBT+ flag.5.Ahmed Aboulenein, "Egypt arrests dozens in crackdown on gays": Reuters Officially Hegazy and the others were arrested on charges of "immorality" and "incitement to debauchery", and for three months, these individuals were subjected to torture, violence, and sexual assault, among other acts.6.Jane Arraf, "After Crackdown, Egypt's LGBT Community Contemplates 'Dark Future'": NPR7."القضاء المصري يفرج بكفالة عن شاب وشابة لوحا بعلم يرمز الى المثليين": SwissInfo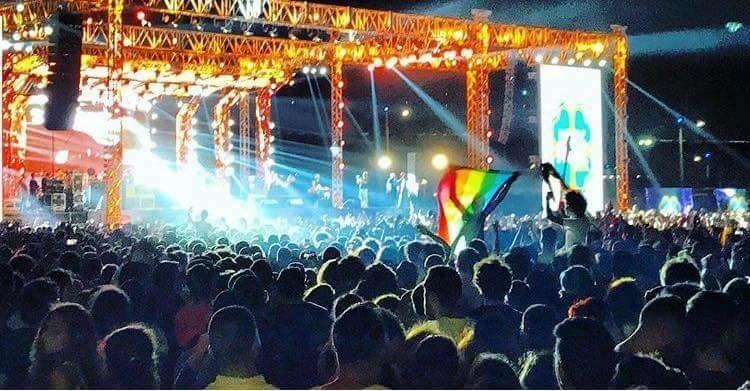 Released on January 2, 2018, Hegazy quickly sought asylum, emigrating to Canada later that year.8."Two held in Egyptian anti-gay crackdown are freed on bail": Egyptian Independent In the time after, Hegazy wrote scathing critiques of the Egyptian regime. In September 2018, she wrote about her experiences in a Mada Masdr article. Among many descriptions of torture and psychological torment, she provided several observations of those security members interrogating her. One individual had asked her "to prove that the World Health Organization does not consider homosexuality a disease."9.Sara Hegazy, "عام على موقعة «الرينبو»: نظام يعتقل، وإسلاميون يصفّقون": Mada Masdr
After her release, Hegazy would continue to work in activism, advocating for LGBT+ rights and democratic movements in Egypt.10.Sara Hegazy, "The Egyptian revolution: Nine years later": Spring Magazine However, the abuses and psychological scars of her time in prison took a toll on her. On June 14, 2020, Sara Hegazy took her own life.11."Egyptian LGBT+ activist Sarah Hegazy, jailed for waving rainbow flag, dies at 30": DW Even after achieving political asylum, the daggers of the Egyptian security apparatus proved to be inescapable. In her observations, she notes somberly:
"Islamists and the state increase each other in extremism, ignorance and hatred, as well as in violence and harm. The Islamists punish those who differ from them with 'death,' and the ruling regime punishes those who differ from them with 'imprisonment.'"12.Sara Hegazy, "عام على موقعة «الرينبو»: نظام يعتقل، وإسلاميون يصفّقون": Mada Masdr
In Egypt, this relationship is incredibly well known and has, in many ways, exacerbated with the COVID-19 pandemic. Citing "terrorism" and national security concerns, the Egyptian state has continually passed emergency measures and laws that have heightened the authoritarian apparatus of the country. Egypt has also used this justification in order to leverage support from foreign governments, including the United States.13.James Gelvin, The Arab Uprisings: What Everyone Needs to Know: Oxford University Press The military state has used a pervasive intelligence apparatus to keep dissidence low, and in the aftermath of the 2011 Protests, these institutions have only ramped up their capabilities. In April 2017, President Sisi declared a state of emergency that, according to the Human Rights Watch, gave Egypt "unchecked powers." 14."World Report 2020: Egypt": Human Rights Watch This has resulted in a security force characterized by excessive use of force, the arbitrary arrests of journalists and demonstrators, and inhumane acts of torture against prisoners.15."Egypt, 2019": Amnesty International
In the wake of the coronaviurs outbreak in Egypt, these elements were only heightened. In April 2020, President Sisi extended the state of emergency once more, the 12th extension since 2017.16."Egypt extends state of emergency for twelfth time since 2017": al-Jazeera In June 2020, Egyptian officers "detained journalists Nora Younis, Mohamed Mounir, Sanaa Seif and relatives of US-based human rights advocate Mohammed Soltan," citing a number of charges.17.Tom Allison and Lewis Sanders, "Egypt targets activists in new wave of arrests": DW Even doctors currently fighting the pandemic have been threatened by the Egyptian regime, with one doctor revealing that, "they arrest my colleagues to send us a message."18."Egypt arrests doctors, silences critics amid Arab world's highest COVID-19 death toll": LA Times With tensions ramping in the Eastern Mediterranean Sea due to the conflict in Libya, the coronavirus pandemic has certainly threatened the Egyptian military's perceived hold on society. As such, the Egyptian regime has focused on hard-handed approaches to keep civilians in line. In ways reminiscent to the post-coup events in 2013, the military today has decided that it's COVID-19 measures must include reactive brutality and human rights abuses.19.Abigail Hauslohner, "Scores killed as Egyptian military fires on demonstrators at Morsi rally": Washington Post20.Mia Jankowicz, "Egypt blamed 'negligence and mismanagement' by doctors for its coronavirus crisis, then started arresting them for speaking out": Business Insider
The Egyptian military regime and its use of illegal detention, torture, and excessive force have been around since 1950. These factors have not changed, even with the Arab Spring uprising in 2011.21.Yezid Sayigh, "Egypt's Military Now Controls Much of Its Economy. Is This Wise?": Carnegie Middle East Center In one of the last pieces written by Sara Hegazy, she notes this fact poignantly: "The military council succeeded in breaking the revolution without making any radical changes in the government in any deep way."22.Sara Hegazy, "The Egyptian revolution: Nine years later": Spring Magazine While the COVID-19 pandemic has illuminated many fights against authoritarianism, Egypt is a country seldom talked about in the western media sphere. Yet, it is a nation of 98 million individuals. It has seen thousands of activists and protestors take the streets with decades of experience in fighting autocrats and dictators. The Egyptian struggle is important in the fight for liberty across the world.
Across the Region, the Fight Goes On
Of course, Egypt is hardly the only case of tyranny in the region, especially in the wake of the COVID-19 pandemic. We've documented much about the ongoing authoritarianism rampant in the Syrian regime of Bashar al-Assad. However, in other countries, stories of a similar nature can be heard.
On July 25, 2020, Jordanian security forces arrested the entire board of the Teacher's Syndicate (known officially as the Jordanian Teachers Association), Jordan's leading union for educators.23."Jordanian Teachers Association": Arab.org In the wake of the arrests, Jordanian officials demanded that the union end operations for two years.24."نائب عام عمان : كف يد أعضاء مجلس نقابة المعلمين": Jordan News Agency At the same time, the Jordanian government attempted to issue a gag order on any reporting of the incident.25." Jordan: Teachers' Syndicate Closed; Leaders Arrested": Human Rights Watch For over a year, Jordanian teachers have protested for higher wages, and the COVID-19 pandemic has resulted in substantial losses in revenue as the state conducted emergency measures.26."After hundreds of teachers arrested, coronavirus is just the start of Jordan's back-to-school challenges": CBS News Although King Abdullah II has claimed that these measures would be conducted "in a way that it will not impede on the civil and political freedoms of Jordanians, and to protect public freedoms and freedom of speech," the Kingdom of Jordan has arbitrarily detained teachers, placed gag orders on the press, and even used force to disperse demonstrations.27."Jordan: Arrests, Forced Dispersal at Teacher Protests": Human Rights Watch28."Jordan: Escalating Repression of Journalists": Human Rights Watch These incidents, while specific to the Teacher's Union, are emblematic of many of Jordan's problems. For years, Jordanians have protested the government over economic concerns and political freedoms. In these cases, the Jordanian government has responded by sacking parliament rather than take any proactive measures. In 2020, this has not changed. On October 3, Prime Minister Omar Razzaz submitted his resignation to King Abdullah, acknowledging that "mistakes were made."29.Suleiman al-Khalidi, "Jordan's King Abdullah accepts resignation of Prime Minister Omar al-Razzaz": Reuters
Similar trends can be seen in Lebanon. In the wake of the Beirut port explosion on August 4, 2020, millions of dollars were donated to the country for its reconstruction efforts.30."How to Help Lebanon After Beirut Explosion": New York Times However, relatively few citizens have seen this aid, and fewer have seen any form of assistance from the Lebanese government. Such points are emblematic of the Lebanese political class. In fact, many of the country's problems stem from an oligarchic class made up of former militia leaders. Political parties like the Progressive Socialist Party, Amal, and the Free Patriotic Movement have used autocratic measures in order to bolster their own political and financial gain. Lebanese citizens have demonstrated against this system for years. In October 2019, protest movements erupted across the country as the Lebanese parliament attempted an inane tax on WhatsApp messaging. Such efforts were part of the government's half-hearted attempts at fixing the economic crisis boiling in the country.31."Lebanon Protests Explained": Amnesty International In early 2020, just before COVID-19 reached Lebanon's shores, protests over food prices were emerging.
The August explosion, in many ways, was the epitome of the government's ineptitude and corruption. In the aftermath of the explosion, many Lebanese took to the streets in order to demonstrate against negligence and a corrupt political system that had been in power since 1990.32."Shock turns to anger as Beirut assesses damage inflicted by massive explosion": New York Times The Lebanese government, rather than take proactive measures, used security forces to arbitrarily arrest protestors and critics. Lebanese police were reportedly using live bullets against demonstrators.33.https://old.reddit.com/r/lebanon/comments/i938mr/a_21_year_old_college_student_protesting_the/34."Lebanon: Lethal Force Used Against Protesters": Human Rights Watch At the same time, the government was slow to provide assistance to those affected by the explosions. Many efforts at cleaning and rebuilding the streets were conducted by civilians, and those attempts by the military at cleaning rubble and rescuing civilians were slow and marred in controversy.35.Kareem Chehayeb, "Beirut explosion: Hopes fade in search for suspected survivor": Middle East Eye36.Hussein Yassine, "Breaking: Lebanese Army Bringing A Crane & More Rescue Teams To Retrieve Possible Survivor": The 96137."Volunteers are cleaning up Beirut and distributing aid to 300,000 homeless as Lebanon's government resigns over deadly explosions": Business Insider As of October, the situation remains dour. Political elites have continued to do little about the declining economy, the increased spike in COVID-19 cases, and the aftermath of the Beirut explosion.
Throughout the region, it becomes clear that the spectre of authoritarianism is well and alive. While Egypt, Jordan, and Lebanon are key examples, other nations in the region have seen their own developments in 2020. Israel has seen anti-Netanyahu protests, while the Palestinian government of the PLO has used the disease to arrest dissidents. The COVID-19 pandemic has enabled many of these regimes to heighten their security apparatuses, creating opportunities for further crackdowns on dissidence, opposition, and freedom of expression.
In the next piece, we'll move over to Asia to analyze how China, South Korea, and other nations are embracing authoritarian tactics in the wake of the COVID-19 pandemic.